I was just wondering, if you played the DS series then there has to be @ least 1 Necro that just pisses you off cause you would run out of ammo @ the wrong time or they're too fast or they just get @ you where it urcs the shit outta you.
for Me
, it would have to be the "
Exploders
".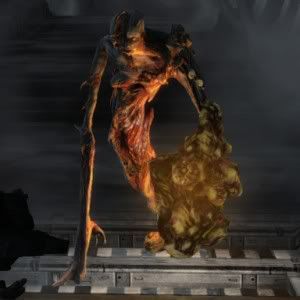 for some reason, hearing them screech promps an automatic gun drawn. then I frantically start looking everywhere. frozen in place looking back front up down. I mean, when I hear them Issac literally be like WTF. I've never been so upset as I was in DS2 on My Hard Core Play through, I think Chp 9. I mean I've already had play through it once already and just forgot that he was there. but was so shook that as soon as I turned with plenty of time to Blast his ass, usually shoot the yellow sack. it exploded and shattered da damn air lock Glass and Blasted Me into outer space. could have cried. think I popped a vain. for some reason I can never get that out off My head. well, there it is. the Exploders are the Necro's that haunts My DS nightmares. what's yours.??
Name & Images of Necros